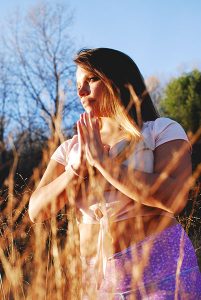 Paula is a registered yoga instructor, RYT200, based in the New Jersey Tri-State area. Her journey began in 2012 during her college summer break, when her best friend convinced her to take a hot yoga class at a nearby studio. She was hesitant to the idea, but decided to try it out. After a very sweaty flow and a well-deserved savasana, she was hooked. The feelings she experienced had her quickly falling in love with the pureness and authenticity of the practice.
Coming from an extensive dance background, Paula was drawn at the idea of staying active and keeping up with her flexibility. Initially, yoga started off as a very physical practice, but it eventually grew much deeper. Breaking past the surface, Paula came to realize that Yoga was not as much about how flexible, or how many advanced poses you can do, but rather more about finding harmony and beauty within the self. She began working less on the appearance of each pose, and rather more on herself as a person and individual; every day became a new opportunity for self-exploration. She soon became intrigued with the idea of teaching this practice to her fellow yogis.
In 2016, she decided to take the leap and complete her RYT200 with her mentor and Yoga Guru, Melissa Varjan at Hokis Yoga Studio in New Milford, NJ. Shortly after, she found the Yin to her Yang, completing a Yin Yoga training with Michele Sapanaro. Studying under Michele not only helped her understand the foundations of meditation, but also allowed her to explore the fusion of meditation and yoga together.
Combining her dance background and yoga training, Paula creates a rhythmic and inviting full body flow in the studio. She challenges her students both physically and mentally, emphasizing the importance of moving with each breath. She also encourages moving with an intention, allowing space for love and positive energy. Her purpose as a yoga instructor is to leave your body feeling invigorated, your mind balanced, and your soul at peace. Whether you're a beginner or an advanced yogi, she welcomes your light!
Namasté.